Ricks Terstappen
---
Ricks Terstappen is an artist born in Limburg, Netherlands and emigrated to New Zealand in 1978.
His work can be seen in large-scale public sculpture and is also held in many private collections. Ricks makes his sculptural creations using metals, wood and found materials. He has often undertaken public commissions and he exhibits frequently in Hawke's Bay and throughout the country.
His particular philosophy and style has led to many collaborative works with other artists on large-scale works such as the Performance Platform in Hastings' inner city and the Wetland Neighbourhood Playground at Barry Curtis Park in Manukau City. A recognised senior Hawke's Bay artist, Ricks was one of three co-curators of the first Wildflower Sculpture Exhibition in 2008.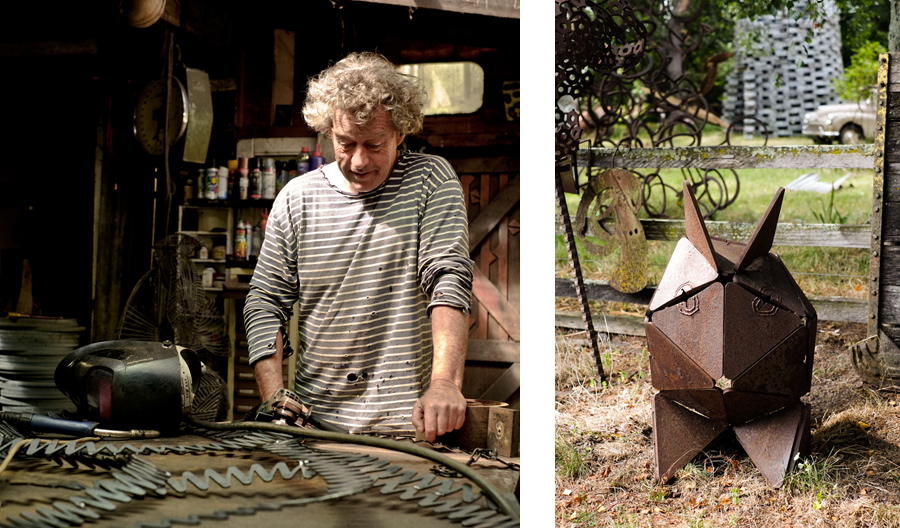 Why did you move to New Zealand?
It's quite a funny story. I was 19 when one day I walked passed what I thought was a travel agent. The shop window showed a poster of cowboys sitting around a campfire and I thought that scene looked great to go to for a holiday. I asked the officer how to get there and they told me they weren't actually a travel agency, but an immigration office for New Zealand. They also mentioned that I'd be a perfect candidate to move there as I was young and able to do farm work. I liked the sound of that, filled in some forms on the spot, not even realising what emigration was, and after a short process my application was approved.
It all went really fast from there. I received my paperwork a few weeks later and I figured I really just had to make the move. It was quite adventurous, I had never even been on an plane before. But it worked out well, I'm still here.
Was there a culture shock when you arrived in New Zealand?
I didn't experience too much of a culture shock and I've always had a good time here. The people were nice, everything was new and you could go surfing and hang-gliding. Also, my uncle already lived here so I stayed with him for a bit, that helped.
What are you most proud of?
My proudest moment? It's still to come.