Foxton Windmill
---
Website – www.demolenfoxton.org.nz
De Molen in Foxton is a full size replica of a Dutch windmill, completed and opened in 2003. Two Dutch immigrants, Jan Langen and Cor Slobbe, saw their dream realised that year. This working windmill makes stone-ground flour, available for purchase inside the mill's souvenir shop. Visitors can also view the mechanical workings of the mill, which are an example of traditional Dutch 17th Century craftsmanship.
De Molen is run by the Foxton Windmill Trust, a charitable trust with a volunteer board and predominantly volunteer staff. Alongside the windmill the trust also operates the Dutch Oven Café as well as the Dutch Market in Foxton, both geared towards raising funds to maintain the integrity of the windmill and keep it open to the public.
Once a year in April, the trust organizes the highly popular Big Dutch Day Out. This colourful festival includes Dutch games for all, Dutch music, Dutch costumes, favourite Dutch foods, face painting as well as a horse drawn tram decorated in Dutch colours.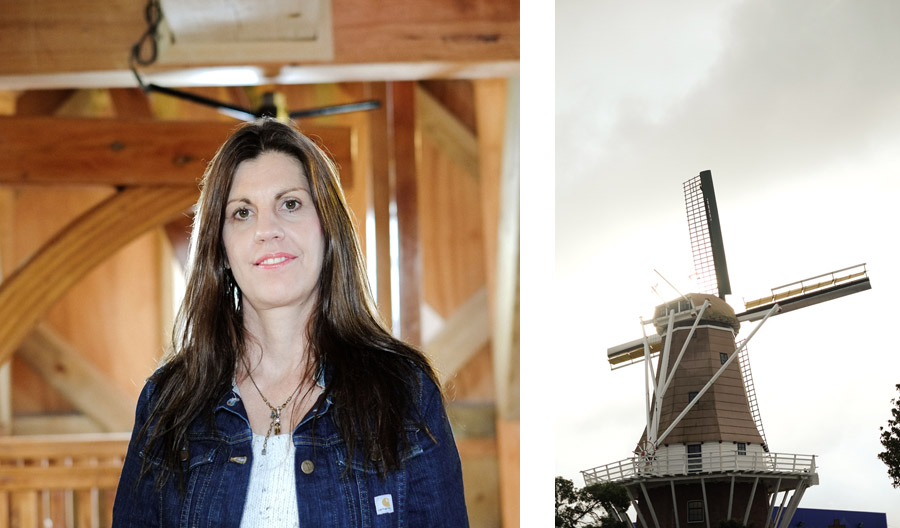 Judy Sanson: "My father had been in New Zealand since the 1950s and settled in Foxton since 1971. In the late 80s he came up with the idea of putting a Dutch windmill here. Foxton is flat, which is ideal and he envisioned it as a great tourist attraction. The local council agreed, provided the land and that's when the process first started.
The mill has been a real community project. It was built with local support and survived for years with one miller and volunteers who were running it. Now we have the Dutch market as well as the café. The idea is to not only provide local employment and be sustainable, but also create a real tourism hub in Foxton."