Leon van den Eijkel
---
Leon van den Eijkel was born 1940 at The Hague, Netherlands. He studied at the Royal Academy of Arts, The Hague, 1958-1963. In 1967 he moved to Leiden. He arrived in New Zealand in 1986.
Leon knew he wanted to be an artist ever since a school trip to a Museum in The Hague at the age of 10. He stumbled across a small Piet Mondrian painting titled The Red Cloud and was transfixed. "Seeing Mondriaan's red cloud in a blue sky, I realised there that as an artist I could break the rules."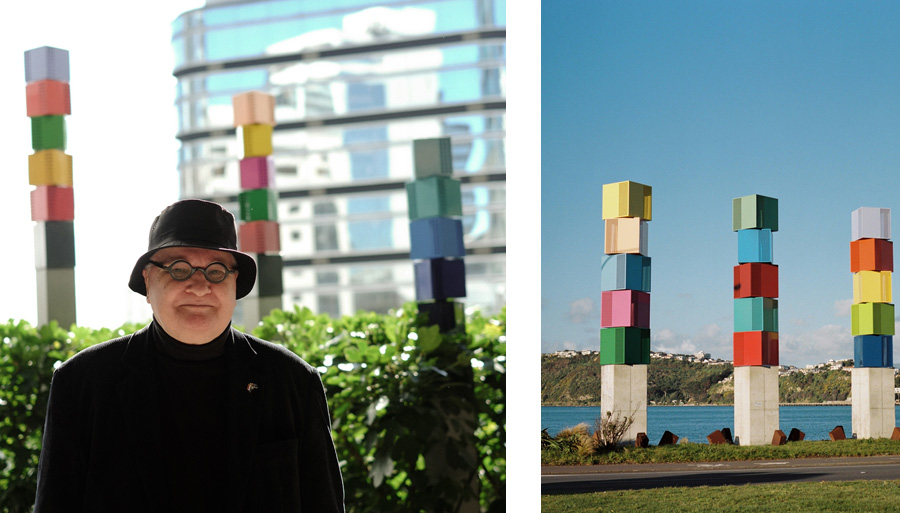 Leon van den Eijkel has exhibited widely in Europe, the USA and in New Zealand where he is represented in major public and private collections including: Stedelijk Museum, Amsterdam, Netherlands; Museum Boijmans Van Beuningen, Rotterdam, Netherlands; Museum van Hedendaagse Kunst, Ghent, Belgium; Museum of Modern Art, New York; and Te Papa Tongarewa, Museum of New Zealand, Wellington. In 1998 he completed a major outdoor sculpture for the Keystone Trust Sculpture Project at The Farm, Auckland. NZ.
For more than 20 years, Leon van den Eijkel's art practice has employed colour in an on-going dialogue between his homeland in the Netherlands and his emigration to the South Pacific. Known for his bold colour combinations, van den Eijkel is influenced by the primary colours of European modernism and the vivid colour palette of Aotearoa New Zealand's environment – what he calls "the Pacific colours".